Thank you, Socktober Stars!
The full time whistle has been blown on Socktober in 2020, and together we kicked some super goals. Across Australia, 378 schools joined us for the journey this year, with 1,991 Socktober Stars raising a wonderful $101,147 for children in need in Cambodia and right around the world.
As our journey together progressed through a difficult year for everyone, students in almost every diocese learnt about mission work in India, Ethiopia, Thailand, and Cambodia and what they can do to support it and be missionary from here at home. We made our own sockballs, created prayer circles, interviewed the hardworking women in our lives, learnt about Fairtrade, and connected with our brothers and sisters overseas, like Dara in Battambang.
Congratulations to all our Socktober Stars, and thank you for your generous and loving support.
A special message from Dara
We've heard about Dara's story, and he has heard about you! He would like to thank you for all your support through Socktober in 2020.
...and one from Sros
Sros, a young resident at the Arrupe Centre in Battambang, Cambodia, shares a message of thanks for Socktober supporters.
Bishop Kike: What can we learn from the humble giraffe?
Bishop Enrique "Kike" Figaredo Alvargonzales SJ, Apostolic Prefect of Battambang and director of the Arrupe Centre, explains why the giraffe is a strong symbol of mission, love, leadership and wisdom. Bishop Kike has worked with children and vulnerable people in Cambodia for over 30 years. At the turn of the century, he established the Arrupe Welcome Centre for children with disability caused by landmines, injury or illness. Today, he and a staff of mostly volunteers continue to care for children by providing educational, vocational, social and sporting opportunities.
Engaging Heads, Hearts & Hands
Socktober engages students and young people in a holistic experience of mission – activating a learning mind, an open heart and hands for action.
Check out the Socktober Challenge Mission Packs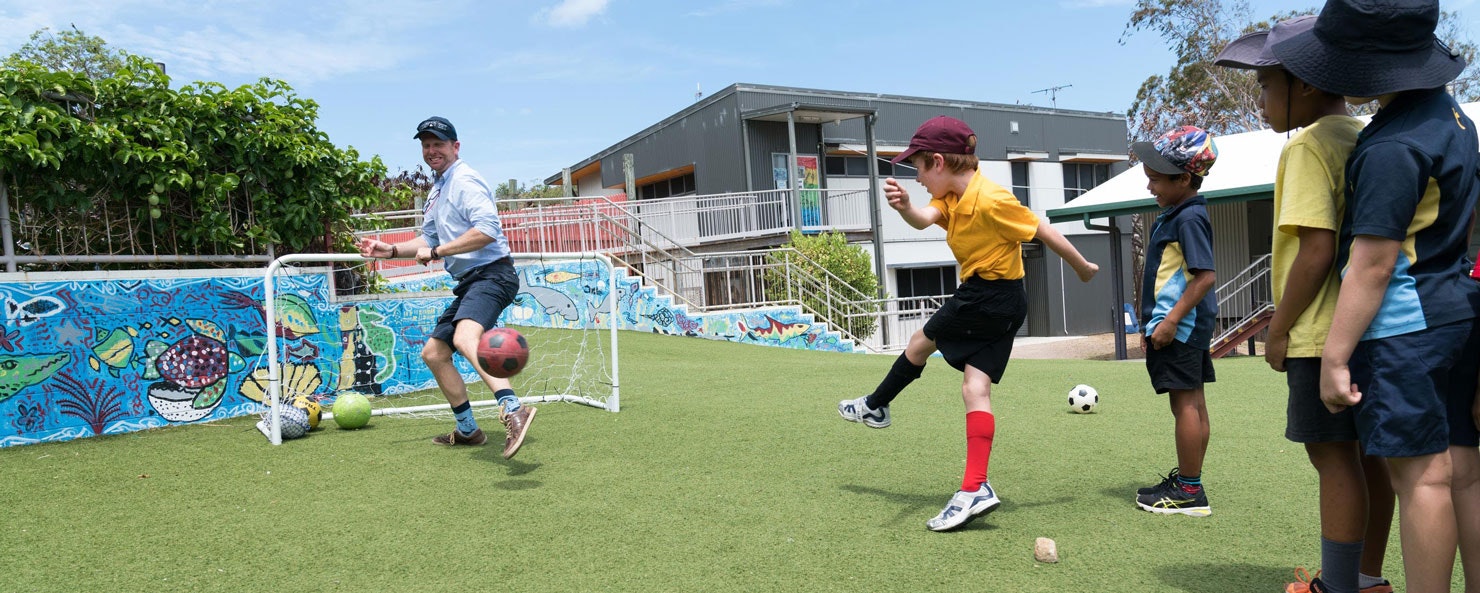 Make your own Sockball!
Follow our step-by-step guide to making your own unique sockball using recycled materials like old socks, plastic bags, and string.
Socktober Skills: Passing, Shootouts and Knee-ups
Catholic Mission's resident soccer guru and Programs Officer Conor Nolan takes you through all the skills you can develop today to be a Socktober Superstar. Work with your teammates to improve your passing, maximise the number of knee-ups you can do (and log your process) and nail the perfect penalty goal.
Socktober: What's it all about?
Keen to know more about how Socktober can help your school community sock it to poverty? This short video explains everything you need to know to help your students have fun, learn about different communities, and make a difference!
How your support can help
"Because life is always beautiful when we choose to live it fully, when we choose to leave a mark." - Pope Francis
$30 can help purchase schoolbooks and uniforms for kindergarten children in Cambodia
$75 can help provide sports equipment for kids in Cambodia
$760 can help to provide medical support and physiotherapy for children with disabilities in Cambodia.
Proudly supported by rrepp
We are proud to present every participating school with a Fairtrade soccer ball as a gift of thanks from our Socktober sponsor rrepp.
rrepp manufactures their soccer balls according to strict Fairtrade and ethical standards, protecting not only the planet but also those who live on it. Affirming Pope Francis' call to integral ecology with a concern for nature, justice for the poor and commitment to society, rrepp supports organic growers of natural raw materials right through to supporting fair income for those stitching the balls to provide a match-quality product for children to enjoy… Coz the planet's watching!